Today at IFA 2022 Honor announced its new Dual Flagship strategy – in short, Honor is launching its foldable phones internationally. And since the company is "Embracing the Connected Future", it teased the upcoming MagicOS 7.0, which aims to connect smartphones, PCs and IoT devices together.
Before we dive into the other major new announcements, let's go over the new launches. The Honor 70 is available in select European markets as of today. In the UK an 8/128GB unit can be yours for £480 (with the option to split that into three £160 installments). In mainland Europe, the 8/128GB model will sell for €550, the 8/256GB one for €600. We have an Honor 70 review to know all about it.

The Honor 70 is launching in Europe today
Also launching today is the Honor Pad 8. The 12" tablet will be available in several markets across Europe. In the UK you can pick up one (4/128GB) for £250 (or 3x £83.33),on the continent it is €330 with a 6/128GB model also available for €350.

Pre-orders start today for the Honor Pad 8 start today in Europe
The company is also refreshing its Intel-powered 14" laptop – the new Honor MagicBook 14 features a 12th gen Intel Core i5-12500H processor and can be configured with an Nvidia GeForce RTX 2050 GPU. This is the first Honor laptop to offer OS Turbo, which improves energy efficiency by over 20%. This means that the 75Wh battery is enough for 17 hours on standby. And there is fast charging, so 15 minutes of charging equal 3.5 hours of up time.

The Honor MagicBook 14 with Intel 12th gen CPU is also going on pre-order today
Pre-orders for the new Intel-powered MagicBook 14 start today in select European markets The base i5 version is €1,099, while adding the RTX2050 discrete GPU bumps it to €1,299. Deliveries and open sales begin on September 18. Note: Honor also has a new MagicBook 14 with a Ryzen 6000 processor, but that one hasn't made its way to Europe yet.
Today Honor also introduces Spatial Audio – a headphone technology for next-gen AR and VR experiences that uses accelerometers and gyroscopes to track your head and create an immersive 3D sound stage. Spatial Audio is able to position virtual sound sources as close as 15cm (6in) and as far as 10m (33ft). Besides AR and VR, this tech can be utilized for movies, music and games.
By the way, Honor worked with Arloopa to challenge two renowned artists – Yunuene and Timo Helgert – to create an on-location AR experience in Hamburg's Speicherstadt (a UNESCO World Heritage Site) centered on the iconic Wasserschloss building.

A peak at the AR experience at the Wasserschloss building
Alright, let's talk about the Dual Flagship strategy. It will bring "upcoming foldable flagship smartphones and all-round flagship smartphones" to Europe and other regions around the world for a two-pronged approach to the premium market.
That could start with Honor's first foldable, the Magic V, as it is already listed on the company's European sites. No price or launch date yet, so we'll keep an eye on that (the "upcoming" might mean that the plan is to bring the next foldable, not the Magic V). As for the "all-round flagship", that role will continue to be filled by the Magic4 series and its sequels.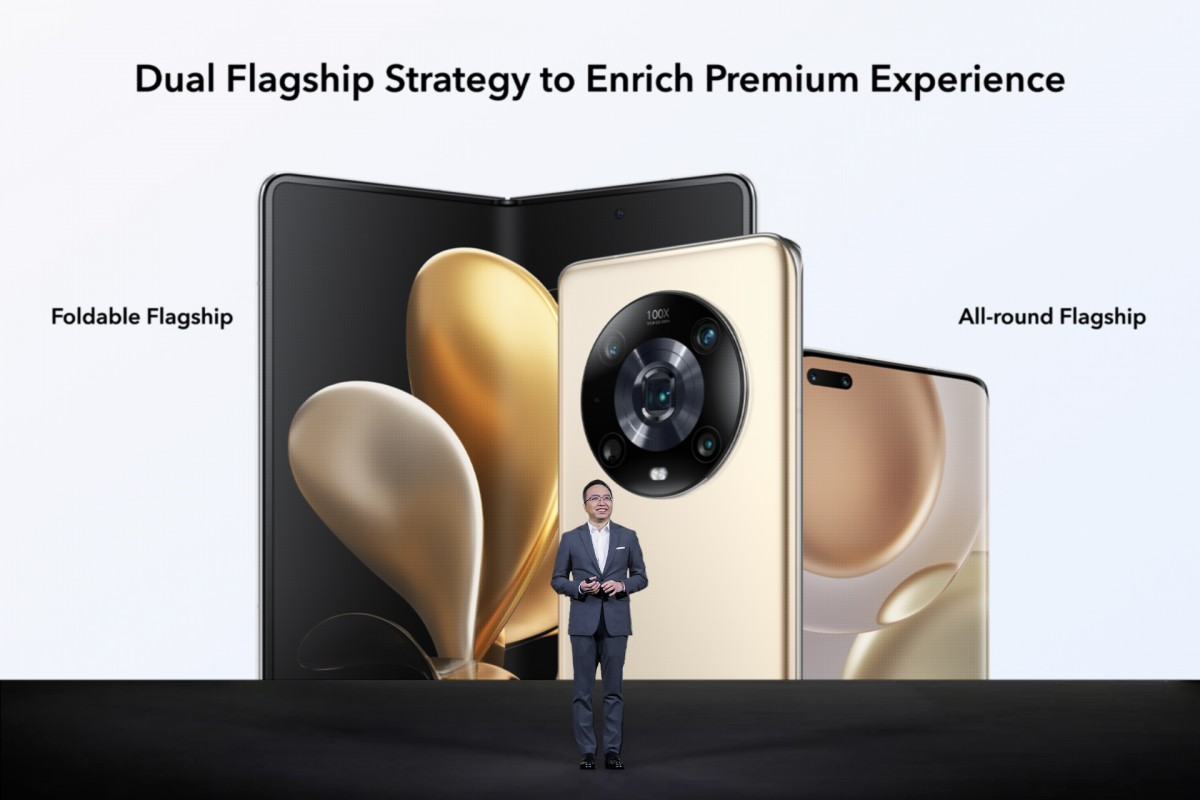 The Honor 70 and Pad 8 are launching with Magic UI 6.1 (based on Android 12). The next major software release will be called MagicOS 7.0 and will span not just smartphones, but PC and IoT as well.
Most of the details are still kept under wraps, but the company did reveal one feature – the new OS will let users control an Honor laptop, smartphone and tablet with the same keyboard and mouse. Also, there will be seamless file sharing between the devices. MagicOS 7.0 will be fully unveiled in the last quarter of 2022.

MagicOS 7.0 is coming in Q4 2022
Before that Honor will enable another way for smartphones and PCs to collaborate – it will extend support for Microsoft's Phone Link (formerly Your Phone) internationally (currently, it is available only in China). The Honor Magic4 Pro will be among the first of the international models to get Phone Link support, the Honor 70 will receive it soon as an OTA update.
We will be handling the new Honor devices featured today, so stay tuned for more details on them coming soon.